EBBS Newsletter • October 2022
Dear EBBS members,
I am pleased to announce that the organisation of the next EBBS meeting in beautiful Amsterdam is steadily proceeding. This will represent an important time to celebrate because it will be our 50th meeting! Despite its age, our society is thriving and contributing to the forefront of the neuroscience field.
50th EBBS meeting in Amsterdam (26-29 August 2023)
The 50th Meeting of the European Brain and Behaviour Society will be held on 26-29 August 2023 in Amsterdam, The Netherlands.
With this meeting, EBBS aims at assembling scientists from all over the world interested in the bridging brain and behaviour, in health and disease, and using the most innovative theoretical and technical approaches in the neuroscience field. The meeting programme already include a wonderful line up of renowned Plenary speakers which are:
Julie Bakker, University of Liège, Liège, Belgium
Tallie Z. Baram, University of California Irvine, Irvine, CA, USA
John Cryan, University College Cork, Cork, Ireland
Paul Frankland, Hospital for Sick Children, Toronto, Canada
Gerd Kempermann, Center for Regenerative Therapies Dresden, Dresden, Germany
Hugo Spiers, University College London, London, United Kingdom
Now, we are looking for your symposium proposals to finalize a fantastic meeting programme.
Call for Symposia is open!
The EBBS Programme Committee welcomes excellent symposia that advance our knowledge of the brain and behaviour, in health and disease, and using all research approaches. Proposals covering either a hot topic in the field or a novel topic not represented in previous EBBS meetings will be favoured.
A symposium may be proposed by any established researcher, who did not have a symposium proposal accepted at the EBBS 2021 meeting. Members of the Programme Committee can neither propose a symposium nor be speakers in a symposium. Proposers of successful symposia would be expected to be or become full members of the EBBS (40 € per year).
Each symposium will require a chair and four speakers (the chair may be one of the speakers). Preference will be given to proposals that represent diversity (across age, sex, and origin). Symposia will be two hours allowing four talks of approximately 20-25 minutes plus time for questions.
Please note that EBBS cannot cover any travel or registration costs for chairs or speakers of a symposium.
Please complete the EBBS symposium proposal form on the conference website .
Deadline: 6 15 November 2022.
Any questions please email secretary@ebbs-science.org.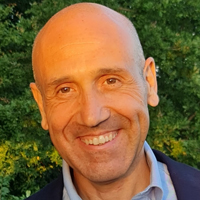 Igor Branchi
President of European Brain and Behaviour Society